Celebrate your wedding at the historical Okazaki shrine in Kyoto. Since the Heian period, locals have visited Okazaki shrine to pray for fertility, safe birth and to ward off evil. Quietly situated near the eastern hills and minutes from the Okazaki cultural zone of museums, Okazaki Shrine is the perfect place to feel the traditional and modern in Kyoto. NOTE: Kimono is required for this ceremony



Okazaki Shrine Wedding ------- 90,000yen
80,000yen + waiting room 10,000yen
Ceremony plan (The plan is necessary for the ceremony)

200,000yen (Separately from Ceremony fee)

Plan includes:

Planning fee (questions,requests,consultations,etc)

Ceremony attending staff cost (attending at the wedding day,deal of taxi,etc)

Interpretation in English (into the shrine and temple)
Bridal Kimono Package

320,000yen

Plan includes:

White shiromuku kimono for the bride

Black montsuki kimono and hakama for the groom

Kimono dressing and attendant during ceremony

Professional make-up and hair styling

Undergarments for the bride

Tabi socks and sandals for bridal couple

English interpretation( for dressing kimono and make-up and hair styling)

Bridal taxi to and from shrine. Taxi pick up within Kyoto city (We order a special car for groom & bride)

Approx. 20-30 minutes
- Traditional ceremony performed by Shinto priest at Okazaki Shrine in eastern Kyoto.
* Limited to weekdays


For more information on the wedding ceremony, please see our Shinto Wedding Ceremony Guide .


Model Wedding Schedule (all times are approximate)

Day 1: Pre-wedding consultation – choose kimono (1 hour)

Day 2: Hair / make-up / kimono dressing (2 hours) – move to shrine (20 minutes) – ceremony preparations (20 minutes) – ceremony (30 minutes) – photography at shrine (30 minutes) – move from shrine (15-30 minutes) – change from kimono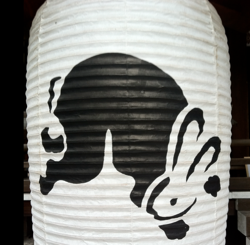 A Brief Sketch of Okazaki Shrine


Okazaki Shrine is one of the four shrines for the purpose of protecting Heiankyo (ancient capital of Japan). The shrine was built when the capital was transferred from Nara to Kyoto in 794 AD.

The main building of OKazaki Shrine was rebuilt in 869 after damage from a fire. On that occasion, new gods were brought from Himeji city in Hyogo prefecture and enshrined at the shrine. According to the Japanese classic, the Heian Monogatari, Okazaki Shrine was one of the 41 government shrines.

Okazaki Shrine has served as a shrine for safe birth since 1178, and the Ujiko-sai festival is held every October in celebration. The rabbit is considered a helper spirit of Okazaki Shrine. This is because many rabbits lived in the mountain behind the shrine. There are many sculptures of rabbits on the precincts (they are seen on pedestals of guardian dogs, in dedicatory lanterns, and above doorways). Notably, there is a black granite statue of a rabbit in the washbasin. This rabbit statue is for the believer who wishes to have a baby.

Okazaki Shrine is also a shrine for marriage. This is because the famous heroic god Susano Ono Mikoto, who is enshrined at the shrine, slayed a demon to marry the goddess Kushi Inada Hime.

For these reasons, many couples hold their wedding at Okazaki shrine.


See Sample Schedule up to Wedding Date