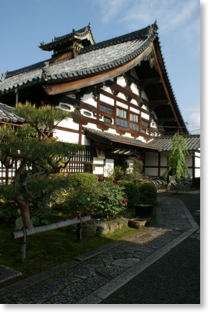 Buddhist-style Weddings at a Zen Temple


Kyoto is home to some of the most famous Zen temples in all of Japan, temples that helped nurture Japan's traditional arts from the Muromachi period up to the present day. A visit to the exquisite rock gardens of temples such as Ryoan-ji, Daitoku-ji and Myoshin-ji are a must on any Kyoto itinerary. As Zen Buddhism grows around the world, Kyoto Weddings presents a unique opportunity to experience a spiritual union here in Kyoto.

Weddings at Buddhist temples are less common amongst Japanese but are nonetheless a very special experience; especially so at one of Kyoto's serene Zen Buddhist temples. The ceremony is much simpler and involves the chanting of Buddhist sutras and exchange of formal vows before a Buddhist priest.

Kyoto Weddings is proud to partnered with Shunko-in, a sub-temple of Myoshin-ji, one of the largest Zen temple complexes in Kyoto. The temple is located in a quiet, peaceful area of Kyoto, Japan. The temple was established in 1599 and has historical gardens and lavishly colored screen paintings. Shunko-in temple welcomes all couples regardless of faith and sexual orientation.


The wedding ceremony involves: (about 20 minutes)

Chanting of the Heart Stutra (

Parajinaparamita

).

Vows lead by an officiant (priest).

Exchange of your own vows and rings.

Sake-sharing ritual (

san san kudo

).

Recitation of a special vow. This is vow is written in Japanese and English in certificate-style and is signed by both partners.

Proclamation of the marriage.
Ceremony fee:

Shunkoin Temple ------- 50,000yen




It will be charge the extra fee for more than 10 guests
Ceremony plan (The plan is necessary for the ceremony)

200,000yen (Separately from Ceremony fee)

Plan includes:

Planning fee (questions,requests,consultations,etc)

Ceremony attending staff cost (attending at the wedding day,deal of taxi,etc)

Interpretation in English (into the shrine and temple)
Bridal Kimono Package

320,000yen

Plan includes:

White shiromuku kimono for the bride

Black montsuki kimono and hakama for the groom

Kimono dressing and attendant during ceremony

Professional make-up and hair styling

Undergarments for the bride

Tabi socks and sandals for bridal couple

English interpretation( for dressing kimono and make-up and hair styling)
Ceremony costs vary depending on number of guests. Please contact us for further information.
Includes: - Ceremony set up - Planning fee - Taxi to and from temple - Interpretation
See Sample Schedule up to Wedding Date