A private ceremony in a spectacular setting all to yourselves
A half an hour from downtown Kyoto lies Shozan-kaku, a traditional ryotei restaurant situated on a small mountain with a strolling garden full of maple trees. Following the path from the main gate, you come to an open area featuring a very special weeping cherry blossom tree, a sibling of the famous cherry tree at Kyoto's famous Maruyama park in Gion. Shozan-kaku is also famous for its traditional tofu cuisine, equipped with its own tofu and yuba (tofu skin) factory that delivers the freshest ingredients directly to your table. Whether it's the gorgeous colours of spring, or the crimson radiance of autumn, Shozan-kaku offers an exclusive location for your ceremony or event.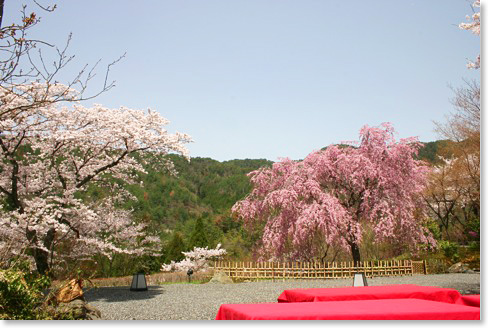 Cost: 320,000 yen
*The use condition: Formal Japanese dinner of more than 10 people is reserved.

Plan includes:


Ceremony fee and set up
Reserved cost in a garden
Celebrant (English)
Same day interpretation and support staff
Taxi pick-up within Kyoto city (hotel to Ceremony place)
Bridal kaiseki course lunch for bride and groom
*Kaiseki=15,000yen per head,plus service charges(20%)and taxes(10%)
*Due to daylight restrictions, this plan is for lunch banquets.
Notes:
- Wedding ceremonies in Japan are not legally binding.
- Restaurant can provide transportation for groups. Please make sure your guests assemble at one location (ie. hotel) for pick up.
- Meals are billed in advance, but the drink bill must be paid on the day.
Sample Schedule for the Day:
10:30 - Taxi pick up at hotel
11:00 - Arrive at Shozan-kaku
11:30 - Ceremony begins
11:45 - Photography in garden (option)
12:15 - Lunch begins
14:15 - Lunch ends
14:30 - Leave for hotel