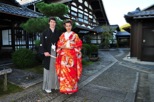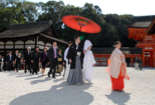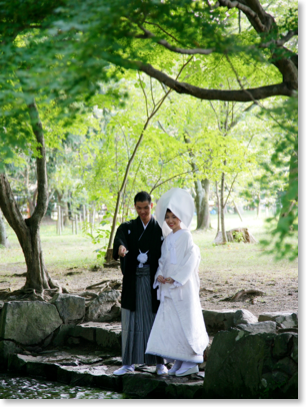 About Bridal Kimono
Where can I hold my wedding in Kyoto?
A: There are three main types of weddings: Shinto weddings (at shrines), Buddhist weddings (at temples) and civil ceremonies (usually at restaurants or gardens). Note, along Kyoto is famous for its gardens, garden weddings in Japan are not very popular. For more information, please click
here
.


When are Japanese weddings usually held?

A: There is a belief that mornings are more auspicious than afternoons for weddings, which is why ceremonies are usually followed by lunch. In terms of seasons, spring and fall are best due to the comfortable weather.


How much does it cost to hold a wedding ceremony at a Shinto shrine?

A: Prices vary according to the shrine, but for Okazaki Shrine in eastern Kyoto, the ceremony fee is 90,000 yen (without kimono). Please consult us if you are interested in holding your ceremony at another specific shrine, as some require the bridal couple to make the reservation directly. We may be able to negotiate with the shrine on your behalf.

For more information, please see our
venues
page.


Can I have a civil ceremony?

A: Yes, civil ceremonies are called "jinzen-shiki"
人前式
.
This usually involves the bridal couple sitting at the bridal table while a host leads the proceedings. There is no wedding officiant in Japan, as the ceremony is not legally binding. The ceremony is very flexible but usually involves the couple announcing their marriage in front of witnesses (the guests). This may take place at lunch or dinner, usually at a traditional ryotei.
Do I need to be of Shinto or Buddhist faith to have a wedding at a Shinto shrine or Buddhist temple ?

A: No, you do not. Although Shinto is the native religion of Japan, there is no official scripture or dogma. All are welcome, and you will never be asked about your religious beliefs. Marriage ceremonies differ depending on Buddhist sect, but we are partnered with Shunko-in, a Zen temple which holds spiritual unions open to everyone.


What do the bride and groom traditionally wear?

A: For traditional ceremonies, the bride and groom traditionally wear bridal kimono – for the bride, shiromuku (white kimono) or iro-uchikake (coloured kimono). The groom wears a formal black montsuki (family crested) kimono with hakama (wide-legged pants). Some shrines will allow Western dress and tuxedo.

For more information, please see our
kimono
page.



How soon do I have to be in Kyoto before my wedding?

A: If you are wearing kimono, please send us your exact sizes in cm (height, waist, shoe) beforehand so that we can order your kimono. As long as we have this, there is no need to come in for a fitting.


How can I pay for my wedding?

A: If you are living in Japan, we accept bank transfers. If you are living overseas, all of our transactions are through
Paypal
, payable by major credit cards. For a Shinto shrine wedding, the typical schedule is as follows:

1. Reservation made at Shinto shrine
2. Ceremony fee and deposit to paid within one week. (Deposit will be deducted from final bill.)
3. Confirmation of payment
4. After dress, photography, and/or meal arrangements are finalized, final bill to be paid up to 2 weeks before ceremony.
5. Confirmation of payment.

Note: Any extra costs incurred on the day of the ceremony must be paid in cash (Japanese yen).