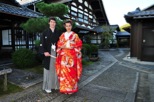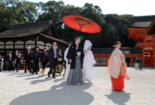 Contact Us

For inquiries into our wedding planning services, photography, kimono rental, please reach us by E-mail or through our online contact form. Unfortunately, we cannot take telephone inquiries.

info@kyoto-weddings.jp
For initial emails, please include the following information:

1. Desired wedding date
2. Wedding type (Shinto, Zen temple, Garden)
3. How many guests you are expecting?
4. Do you need to hire a photographer?
5. Are you interested in bridal kimono rental?
6. Do you need banquet planning?

Online Contact Form



Application

Please apply to up to three weeks before the wedding. Registration is here.

Online Application Form

Sample application schedule:

1. Confirmation of dates with ceremony venue. Application to be sent.
2. Ceremony fee and deposit to paid within one week. (Deposit will be deducted from final bill.) Availability of venue may change in the case of delay in payment.
3. Confirmation of payment. Reservation is formally confirmed.
4. Final Confirmation Checklist must be sent 1 month before wedding.
5. After dress, photography, and/or meal arrangements are finalized, final bill to be paid up to 2 weeks before ceremony.
6. Confirmation of payment.
7. Other fees must be paid in cash on the day.


KMFA Co.Ltd - Kyoto Weddings
1F AB Blg, Kawaramachi Hoku-to Kado, Nakagyo-ku, Kyoto-shi, 604-0911, Japan
(We are located just east of Kyoto City Hall)



All transactions with Kyoto Weddings from overseas will be through Paypal. A 5% processing fee will be added to your bill.

* If you live in Japan, or have access to a Japanese bank account, you may pay by domestic bank transfer and avoid the 5% processing fee.